Latest News
Published: 11 June, 2021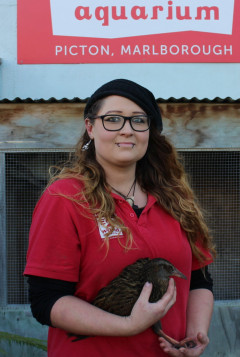 11 June 2021
Media Release for immediate release
Lucky lost Weka rescued in Picton's High Street
One very hungry and lost young weka was lucky to be spotted in Picton's High Street and then quickly caught by EcoWorld Aquarium & Wildlife Rehabilitation manager.
"We had been told by concerned members of the public that there was a juvenile, very tame weka wandering about the Picton CBD" said EcoWorld manager Janelle White.
"We got the call about midday that it was scavenging around the cafes. It took a bit of time to find it, but it was so weak and hungry that it was not that hard to net."
Tita, as the EcoWorld team have affectionately called him, is now in EcoWorld's rehabilitation centre for assessment and treatment.
"He was starving. His keel (breastbone) was protruding, and he was significantly underweight. He is now eating lots of worms and fruit and seems to be really enjoying the foraging activities provided by staff. Foraging enrichment is an extremely important part of rehabilitation because it teaches him behaviours necessary to find food in the wild. All going well he will be released in the next few days", said Janelle.
Tita will be released into the wild (far from Picton township) once he has regained enough weight and energy to survive our harsh New Zealand winter.
The weka (Gallirallus australis) is a native ground dwelling bird found only found New Zealand. It is currently listed on the IUCN red list as vulnerable which means they are particularly at risk from predators and people. As people are encroaching more and more on our native bush habitats, encounters with wildlife in urban areas are becoming more common as animals are adapting to townships to scavenge and forage. Urban areas pose a wide range of threats to wildlife: dogs, cats, motor vehicles and even harm from people themselves.
If you find any wildlife that appears to be in distress or danger, please notify the Department of Conservation or call the friendly staff at EcoWorld Aquarium & Wildlife Rehabilitation.
John Reuhman – Director, EcoWorld
20210611 E Media Release Lucky lost Weka rescued in Pictons High Street - (140 KB Adobe Acrobat PDF file) »
Published: 11 June, 2021
Please see attached the above pānui for our Nelson clinic on the Tuesday 14th July 2021
Nelson Clinic - (215 KB Adobe Acrobat PDF file) »
Published: 10 June, 2021
About the role:
The Advisor, Partnering for Outcomes position offers an exciting opportunity to engage with and support providers and communities at a regional and local level to improve outcomes for at risk children, families, and communities.
The Advisor will support the provision of services to families and communities by developing and managing contracts with those who provide the services. Monitoring of performance will include a strong focus on outcomes being achieved. They also must be able to engage with stakeholders and build strong relationships. Important to this role is the ability to work in a collaborative and innovative way in cross-agency settings. Knowledge of the coordination, delivery or contracting of social services would be useful. Crucial to this role is a strong Maori and Pacific focus, a working knowledge of the principles of the Treaty of Waitangi and the implications of these for the work of Oranga Tamariki, and the ability to establish relationships with and engage with Iwi Maori.
The closing date for applications is 22nd June 2021.
Advisor Partnering for Outcomes pd - (246 KB Adobe Acrobat PDF file) »
Published: 8 June, 2021
Commercial Manager
Well established production and export operations
Broadly based finance based leadership role
Wellington Based
Port Nicholson Fisheries is the largest Māori-owned exporter of live lobster. It is also the largest North Island exporter and second largest nationally. It exports premium quality live lobster from the clean, fresh and pure waters of New Zealand directly to customers in China, providing them with produce from one of the world's most pristine and sustainably managed fisheries.
The role of Commercial Manager will be an integral member of the leadership team and will assume full responsibility for leading the accounting, finance & administrative functions, while also providing strategic support to the CEO and the Board. Supported by a small accounting/administration team you will still be involved in some of the day to day transactional activities, but the focus will be on leading the further development of the information systems, business performance reporting, risk management and supply chain management. As the organisation looks at new growth opportunities, there will also plenty of projects to keep you busy, which will involve you at an operational level.
We view this position as an ideal opportunity for candidates who have established themselves in senior commercial sector finance roles but are looking for a boarder range of operational involvement. Applicants will ideally have a relevant professional qualification and will need to demonstrate skills/experience in both financial & cost management reporting, along with financial planning and analysis and ideally some exposure to commercial management. Previous experience in food production/processing orientated environments, while not essential is a definite advantage. On a personal level we are seeking to identify candidates who are career motivated, good communicators, proactive and solutions focused in their approach, can display proven leadership skills and enjoy contributing as part of the wider team.
The remuneration package is competitive and where a candidate is looking to move to Wellington some relocation assistance can be provided.
To make confidential enquiries please contact Patrick Methven on 021 372 457 or email patrick.methven@echelongroup.co.nz .
Please apply online at www.echelongroup.co.nz Echelon Group PO Box 29533 Christchurch.
Port Nicholson PD Commercial Manager - (722 KB Adobe Acrobat PDF file) »
Published: 8 June, 2021
For whānau, and our key Whānau Ora partners, Whānau Ora can be contacted at
0800 187 689 | INFO@TEPUTAHITANGA.ORG – or the local Whānau Ora Partners across the region
The attached factsheet provides a general list of welfare supports amongst our community.
For the Waitohi and Waikawa rohe please contact Waikawa Marae on manager@waikawamarae.com
CCDEM welfare factsheet update 20210606 - (228 KB Adobe Acrobat PDF file) »