Latest News
Published: 22 December, 2021
Whānau Snorkel Day - Tonga Island Marine Reserve
When: Wednesday 26th of January 2022, and it's all about fun!
Our hope is that whānau walk away with ātaahua memories of ika and an understanding of why we need marine reserves.
The pānui for the Whānau Snorkel Day, registration form and a short video of what to expect on the day are attached.
DOC only has capacity to take 50 iwi members on a sea shuttle so get in quick!
The Youtube link for what to expect from the snorkel day is - https://www.youtube.com/watch?v=A4FsLpNYp6A
Whanau Snorkel Day Jan 26 - (728 KB Adobe Acrobat PDF file) »

Whanau Snorkel Day Registration form - (2.4 MB Word document) »
Published: 20 December, 2021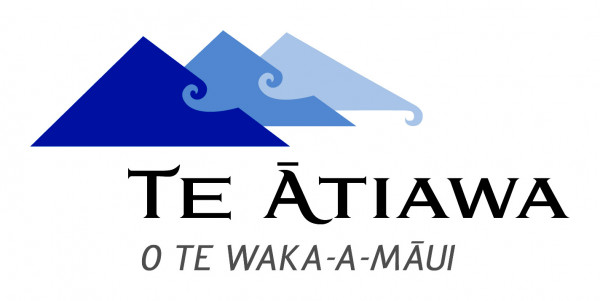 Pouwhakahaere – General Manager
Waitohi (Picton)/ location
Hands on, whānau focussed leadership
Opportunity to step into a Executive Management role
Te Ātiawa o Te Waka a Māui Trust (the Trust) is the governing body that oversees the activities, interests and aspirations of Te Ātiawa o Te Waka a Māui. The Trust is based in Waikawa, Picton.
The Pouwhakahaere is accountable to the Trust and ensures the functions of the Trust are fulfilled through leading the performance of the Trust Group. The Pouwhakahaere role has administrative, financial management, planning, business development, advisory, monitoring functions and iwi development responsibilities. There is a small team of around 10 kaimahi, and the role is well supported by iwi members and professional advisors.
The role is responsible for leading the delivery of the Trust strategic plan through efficient administration, managing the Trust's assets, and delivery of the Trust's social and cultural programme to Te Ātiawa o Te Waka a Māui.
Key Attributes Sought For This Position Include:
Strong organisational and administrative expertise.
Diverse governance and financial management skills.
A proven relationship builder and team leader.
A clear and effective communicator.
A reputation for delivery.
Chief Executive experience isn't essential, but the successful candidate will need to have credible management experience. This is a key role that requires a special person with a commitment to iwi economic and cultural development. For further information on Te Ātiawa o Te Waka a Māui, please visit www.teatiawatrust.co.nz/
A copy of the role description is by contacting Raewyn Brown – raewyn@amytea.co.nz. Please apply by emailing your CV and Cover Letter to apply@amytea.co.nz. Applications close on 4 February 2022
Published: 13 December, 2021
Tēnā koutou
Canterbury DHB, in partnership with Manawhenua ki Waitaha Charitable Trust (MKWCT) are pleased to announce that the Māori & Pasifika Health Scholarships for 2022 are now open.
Māori and Pasifika scholarships are for Christchurch-based tertiary institution students who are studying a health-related NZQA accredited course and have whakapapa with Māori communities and/or cultural links with Pasifika communities, and are also planning to work in the Canterbury district.
The application form has been published to the following pages:
www.cdhb.health.nz/health-services/manawhenua-ki-waitaha-scholarships/
www.cdhb.health.nz/about-us/health-system-alliances/manawhenua-ki-waitaha/
Maori Pacific Scholarship 2022 - (224 KB Adobe Acrobat PDF file) »
Maori Pacific Scholarship 2022 A4 - (143 KB Adobe Acrobat PDF file) »
Published: 9 December, 2021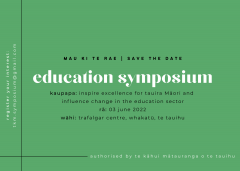 For More Info, Click on the ATTACHED DOC

Save the date Education symposium - (227 KB PNG image - good general-purpose format) »
Published: 8 December, 2021
Conservation Board Nominations
There are 43 public vacancies arising across 14 of the 15 conservation boards of Aotearoa New Zealand in 2022, each with a defined geographical area and up to 12 members.
The Minister of Conservation is seeking nominations from her ministerial colleagues; government nominating agencies; Māori; iwi, hapū and whanau; national and regional bodies; and, the public. All nominations for positions on the regional conservation board need to be received no later than Monday 31 January 2022.The Minister of Conservation is looking for suitably qualified people for
Further information and an online nomination form can be found at www.conservationboards.org.nz. The period for receiving nominations closes at 5pm on Monday 31 January 2022. If any iwi members are interested please let the office know.
Conservation Board functions
Conservation boards are independent bodies that empower local communities and tangata whenua to contribute to the management of conservation areas through their functions as set out in section 6M of the Act and in the National Parks and Reserves Acts.
The Board's focus is on planning and strategic direction through their involvement in the review and monitoring of statutory plans in their rohe. The Board's are serviced by the Department of Conservation (DOC).
A major responsibility for each conservation board is overseeing the conservation management strategy (CMS) for its region. A CMS is a 10-year statutory plan that sets out how DOC and Treaty partners manage natural and historic heritage. The boards work with DOC to prepare the CMS to ensure local communities are reflected in these plans. Once a CMS has been approved by the New Zealand Conservation Authority, conservation boards advise on their implementation.
Other conservation board work can include:
developing and reviewing national park and other management plans for lands administered by the Department;
advising on proposals for marine reserves;
considering the impact of concessions for tourism and other activities on conservation land;
looking at the range of recreational opportunities in the region;
advising on proposals to change the protective status or classification of areas of national or international importance.
Skills and attribute requirements
Members are appointed as individuals for their experience, expertise, and links with the local community. Nominees may have knowledge of nature conservation, kaitiakitanga, natural earth and marine sciences, mātauranga Māori, cultural heritage, tikanga, te ao Māori, recreation, tourism, the interests of the local community, and features of conservation land in the area.
Nominees should have a well-developed interest in the work of DOC generally, and in the rohe of the Board they seek appointment to. They will need to be willing and able to keep abreast with policy and other developments impacting on DOC's work and relevant to the Board's functions.
They will also need the ability to take a strategic view, work with others, read and analyse draft material for clarity, participate in hearings, and weigh up differing perspectives, within a conservation framework.
Member time commitment
Each conservation board meets six times a year, usually for one day, with venues rotating around the Board's rohe. One or two field trips of one day's duration may also be undertaken to increase understanding of management considerations, particularly to sites where there are conflicting values or high visitor pressure. Additional duties may be required between meetings, especially associated with work on the CMS or a conservation management plan.
The total time commitment is approximately 15 days per annum. Chairpersons, elected by each conservation board, can expect a higher time commitment. The term of appointment is usually for three years.