Board of Trustees
---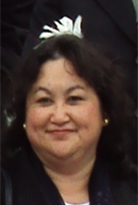 Vennessa Turama Ede - Vice Chair
Education: Graduate Diploma in Business (Grad Dip Bus) – Massey University; Bachelor of Commerce and Administration (BCA) – Victoria University
Interests: Family, Iwi, Friends, Rugby, Horses, Home, Waikawa Bay, Māori Economic Development
Ko Piripiri te maunga, Ko Waitohi te awa, Ko Waikawa te marae, Ko Ngāti Te Whiti tōku hapū, Ko Tokomaru te waka, Ko Te Ātiawa tōku iwi, Ko Island Moutere Love me ko Patricia Huriata Love ōku maatua, Ko au te mokopuna tuatahi o Moutere raua ko Patricia Love. Heoi ano he tamaiti whāngai au o raua. Ko Marlene Turama Love tōku Whaea whanau. Ko Vennessa Turama Ede taku ingoa.
I was appointed to the Trust Board in 2006 and have enjoyed working for the Trust and our iwi. Within the governance role my main involvement and interest has been with Marlborough Resource Management (former Chairperson RM Komiti Marlborough) and the commercial and economic development of the Trust during the Waitangi Claim Settlement negotiations process. This is a strong and ongoing interest to assure sustainable and economic capacity into the future to enable the enhancement and wellbeing of our iwi me ngā whanau.
I also hold a number of Trustee and Directorship positions with other Māori and community organisations and in addition to my Te Ātiawa trustee role. These roles have allowed me the opportunity to gain solid governance experience and also participate in promoting economic and social opportunities for others, our iwi, whānau and community.
---