Board of Trustees
---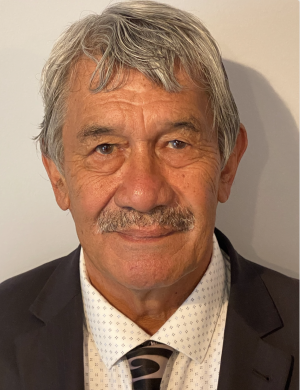 Ron Riwaka
Ko Piripiri te maunga
Ko Waitohi te awa
Ko Tokomaru te waka
Ko Waikawa te marae
Ko Puketapu te hapu
Ko Te Ati Awa te iwi
Ko Ron Riwaka toku ingoa.
Ehara taku toa i te toa takitahi Engari, he toa takitini
Success is not the work of one, but the work of many
My parents, Taare and Huriana Riwaka, lived in Waikawa. I grew up at Waikawa Pa with my siblings and many cousins.
My early years moulded my love of the bay and the Marlborough Sounds, the aroha remains as strong as ever.
As a Trustee I never forget that I am but only, the eyes, the ears and the voice of the people who have entrusted me to maintain the mana of Te Ātiawa.
I am passionate about the Trust being successful and providing for all its whānau. I advocate strong governance that is transparent and delivers equally for all Te Ātiawa whānau, with no segregation of rohe.
It is immensely important to me to protect and sustain our treasures, to be competitive in today's ever-changing world and to ensure the future of our iwi.
I desire to see our Kaumātua looked after in their golden years, our whānau to be healthy, employed and strong; with our rangatira educated in the ways of our Tupuna, able to blend this knowledge along with modern learnings so as to continue to strengthen the foundation of Te Ātiawa o Te Waka-A-Māui.
To see our iwi return to their roots, and to be able to work and enjoy what our Tupuna enjoyed, along with having sustainable growth into the future is my dream, it is what I work towards as a Trustee.
Kāhore taku toa i te toa takitahi, he toa takitini
We cannot succeed without the support of those around us.
Occupational Skills that I bring with me to the Trust:
Corporate Management; Operational Management; Negotiation; Evaluation and Analysis (focusing on facts, policies, procedures and not personalities); HR practices, Planning - people, systems and resources; Budgets
Trust Interests:
Whānau, Marae, Maori health and wellbeing, cultural rejuvenation, establishment of skills and training facilities, grow employment options for whānau, mentor and offer succession opportunities, preservation of Toanga, protection of customary rights, sustainability of kaimoana, continuing financial growth and stability, longevity of te Ātiawa o Te Waka-A-Māui mana and tikanga.
---