Board of Trustees
---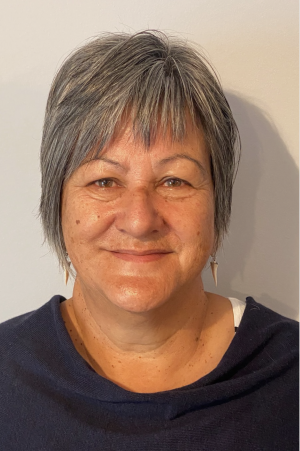 Rita Powick - Vice Chair
Ko Arapaoa te moutere tapu
Ko Piripiri te maunga
Ko Te Weranga o Waitohi te awa
Ko Tokomaru te waka
Ko Te Ātiawa te iwi
Ko Puketapu, Ngāti Komako, Ngāti Rāhiri rātou ko Ngāti Te Whiti ngā hapū
Ko Waikawa te marae
Tihei Mauri ora!
E ngā uri whakaheke o Te Ātiawa o Te Waka a Māui, e aku iti, e aku rahi, nei rā te mihi.
I descend from Rihari Tahuaroa/Roka Pawau, Hokipera Pehimana/Tamati Whanganui, Mere Ruru Te Hikanui/Te Pukahu, Eruiti Te Manukapanganui/Aramainana and Rangi Matangi/Mihirāwhiti Pata.
Raised by my grandparents; Pika (nee Tamati) and James Matangi, and my mum, Rita Matangi; I'm proud to have grown up amongst strong, loving Waikawa Pā whānau. My upbringing shapes my belief in the importance of whānau strength and cultural identity.
My husband Tom and I live in Waitohi/Picton. We have three awesome children – our son Rangi and partner Becs in Auckland, our son Brad in Christchurch and our daughter Kiri, son-in law Scott and our two treasured mokopuna Te Ahupō and Aramainana in Taranaki.
I've worked within, and held governance positions on, national, regional, iwi, marae and Māori driven organisations. My Māori and English medium teaching career helps fire my personal passion for te reo Māori and our indigeneity.
I support greater inclusion of iwi voice in our iwi developments. I encourage sound, forward-thinking initiatives to achieve our aspirations for current and future generations. I relish our increased affirmation of our place and influence on the landscape. I believe in iwi trustees leading by example.
My priorities:
Fostering links amongst ourselves as iwi, across Te Ātiawa marae in Te Tauihu, with our Te Ātiawa kin in Wellington/Waikanae/Taranaki – to strengthen whakapapa ties, reo and tikanga practice, history and heritage protection and our Te Ātiawatanga.
Developing initiatives and partnering with others - for improved health, housing, environment, education, training, employment and commercial outcomes that benefit iwi
I am humbly privileged to serve as an iwi trustee.
---