Noticeboard
Posted on 3 March, 2021
* Archived - This notice has expired and is published for archival purposes only.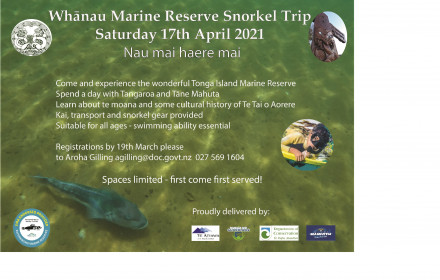 Whanau snorkel day essential information and registration form
Whakamana te maunga Whakamana te wai He mauri o ngā tangata Ngā mea katoa he pai
If we look after the water from the mountains to sea, it will look after us. It is our life force.
Date: Saturday 17th April with a bad weather plan B Sunday 18th April
Nau mai haere mai, welcome to the whanau marine reserve snorkel day. In a collaboration with Te Atiawa, Tasman Bay Guardians, Department of Conservation, Sea Shuttle and Te Awhina Marae, we invite you and your whanau to join us on a fun-filled day exploring Tonga Island Marine Reserve and Abel Tasman National Park.
Our team will pick you up from Te Āwhina Marae and take you out to Kaiteretere where a Sea Shuttle will take you up to Tonga Quarry. After some korero we will help you into your snorkelling gear and take you on an adventure through the shallow reefs of the Tonga Island Marine Reserve. After some kai, there will be an option to take a hikoi along the coast to Onetahuti. Enjoying the views, nature and knowledge of your guides, you will visit a pristine stream teaming with native fish. You will then be picked up and taken on a tour of the ancestral pou before returning to Kaiteretere and back to Te Āwhina by 4.30pm. It will be a big but rewarding day to spend quality time exploring with your whanau.
Priorities for attendance are as follows, noting 35 prospective places:
Haukāinga Te Ātiawa Rangatahi from Aorere (Tasman) and Whakatū.
Haukāinga Ngāti Rarua and Ngāti Tama Rangatahi from Aorere (Tasman) and Whakatū.
Mataawaka Rangatahi.
Any other Haukāinga from Te Ātiawa, Ngāti Rarua and Ngāti Tama from Aorere (Tasman) and Whakatū
Registration: Please fill in the Registration form below (whānau snorkel day info). You can fill in by hand and email or text it to Aroha Gilling agilling@doc.govt.nz 027 569 1604. Call if you need to.