Noticeboard
Posted on 3 March, 2021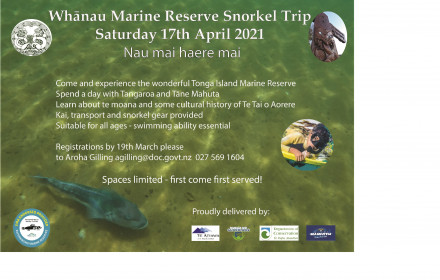 Whanau snorkel day essential information and registration form
Whakamana te maunga Whakamana te wai He mauri o ngā tangata Ngā mea katoa he pai
If we look after the water from the mountains to sea, it will look after us. It is our life force.
Date: Saturday 17th April with a bad weather plan B Sunday 18th April
Nau mai haere mai, welcome to the whanau marine reserve snorkel day. In a collaboration with Te Atiawa, Tasman Bay Guardians, Department of Conservation, Sea Shuttle and Te Awhina Marae, we invite you and your whanau to join us on a fun-filled day exploring Tonga Island Marine Reserve and Abel Tasman National Park.
Our team will pick you up from Te Āwhina Marae and take you out to Kaiteretere where a Sea Shuttle will take you up to Tonga Quarry. After some korero we will help you into your snorkelling gear and take you on an adventure through the shallow reefs of the Tonga Island Marine Reserve. After some kai, there will be an option to take a hikoi along the coast to Onetahuti. Enjoying the views, nature and knowledge of your guides, you will visit a pristine stream teaming with native fish. You will then be picked up and taken on a tour of the ancestral pou before returning to Kaiteretere and back to Te Āwhina by 4.30pm. It will be a big but rewarding day to spend quality time exploring with your whanau.
Priorities for attendance are as follows, noting 35 prospective places:
Haukāinga Te Ātiawa Rangatahi from Aorere (Tasman) and Whakatū.
Haukāinga Ngāti Rarua and Ngāti Tama Rangatahi from Aorere (Tasman) and Whakatū.
Mataawaka Rangatahi.
Any other Haukāinga from Te Ātiawa, Ngāti Rarua and Ngāti Tama from Aorere (Tasman) and Whakatū
Registration: Please fill in the Registration form below (whānau snorkel day info). You can fill in by hand and email or text it to Aroha Gilling agilling@doc.govt.nz 027 569 1604. Call if you need to.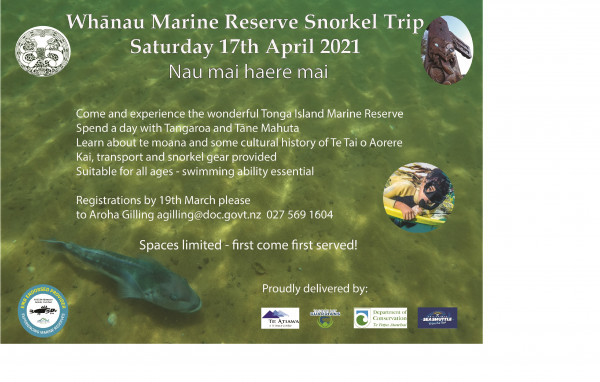 Posted on 1 March, 2021
COVID-19 SUPPORT FOR BUSINESS
COVID-19 SUPPORT FOR BUSINESS
See here for more info
The govt have announced a range of wage of subsidy options (this does not only apply to our Auckland whānau) so please pay attention to the resurgence support payment (1) if your business has been affected.
Resurgence Support Payment
The Government has activated a Resurgence Support Payment, available from Inland Revenue. It's for businesses whose revenue has reduced because of a COVID-19 Alert Level 2 or higher. Applications can be made in myIR from Tuesday 23 February 2021
Find out how to apply here

Note: The last day to apply is 22 March 2021 through myIR.
Short-Term Absence Payment

The Short-Term Absence Payment covers eligible workers, including self-employed people, needing to stay home while waiting on a COVID-19 test result and who can't work from home. This is a one-off payment of $350 to employers, to pay workers who need to stay home while awaiting a test result for themselves or a dependent, in accordance with public health advice

Leave Support Scheme

The Leave Support Scheme helps businesses to help pay workers, including the self-employed, who meet certain health criteria, eg they have COVID-19. They will have been told to self-isolate and can't work from home. It's paid as a lump sum and covers two weeks per eligible employee at the rates of $585.80 for each employee working 20 hours or more a week and $350 for each employee working less than 20 hours a week.
If you have experienced reduction in your business whānau please look into these options, don't be whakamā! We are all in this together and need to utilise the help when needed. Alternatively, if you know of someone who could use this help send them this information. Let's tautoko!
Kia kaha e te whānau
Posted on 23 February, 2021
Construction work will recommence this week on the Waikawa marina extension at Waikawa North West. This stage of the project, "Stage Two" consists of breakwater installation and piling works. The piling works will take approx. 4-6 months to complete and will be the main activity on site during this period. Please note the exclusion zone when navigating in and out of the marina on the water - The majority of the breakwater installation works is from floating plant, this includes a large barge set up with a crane and piling equipment. A workboat will manoeuvre the barge into position and tow piles to the barge.
The Harbour Master has installed two yellow special navigation buoys to highlight the risk as you approach the site from the north on the water. Our breakwater contractor will install further navigational aids as the piling works progress. We ask that you do not enter the construction zone and maintain a minimum of 30m separation from any of the construction plant or installed works.
Project updates can be found on the dedicated page on the marinas website here: https://marlboroughmarinas.co.nz/waikawanorthwest/
Posted on 23 February, 2021
Marlborough Sounds' research

Conrad (Professor Pilditch) has research plans that will provide for several (2-3) young Maori students to be 'out in the field with us' to share in data collection (March 7-16). Ideally, these young people would be students (university/high school) with an interest in the marine environment and wanting long term to be future environmental leaders. We would hope (especially if their time was being paid for - see below) that these students would prepare a short report on their experiences and being willing to share it with their iwi. If there was interest, we could look into developing more science involvement through participating in longer-term research programs.

After discussing how flexible these arrangements might be, Conrad has said: "For the time we are here, we can be flexible but ideally we would like interested Te Ātiawa students to join us in middle of your research for a couple of days when the most is happening between March 19-22 but a day, a half-day, or some hours of involvement can be accommodated."
We have applied for funding to facilitate iwi participation in this research that will cover costs of getting to and from the field sites, accommodation and food as well as a small koha for incidentals.

If you would like to be involved please contact:

Conrad (Professor Pilditch)
School of Science
University of Waikato
Hamilton 3240 p +64 7 837 9393
New Zealand e conrad.pilditch@waikato.ac.nz
http://conradpilditch.wordpress.com/
Posted on 17 February, 2021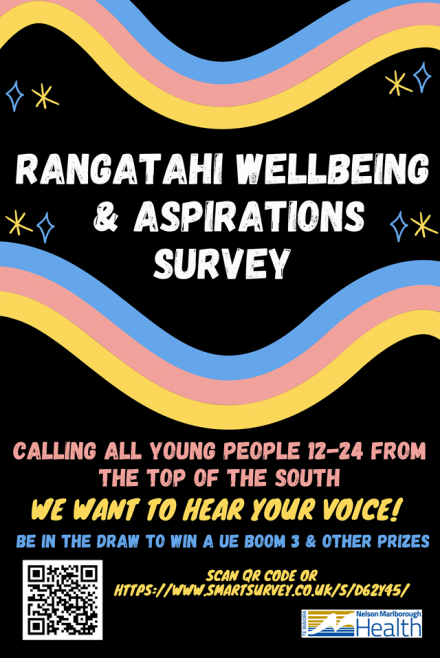 Agencies across Te Tau Ihu (Top of the South) are working together to identify & support the needs of young people and we want to ensure your voice is heard and you have the opportunity to be involved in the next steps/solutions.

The Top of the South Impact Forum Youth Steering group ran a series of workshops throughout 2018 - 2019. After feedback from young people and agencies working with young people, four key focus areas were identified:
1.    Mental health & wellbeing
2.    Transition to employment
3.    Alcohol & other drugs
4.    Youth spaces & places
We recognize the importance of regularly capturing the voices of young people to inform projects and support. This survey has been created by Public Health Service, Nelson Marlborough Health to capture a snapshot of how young people's wellbeing & aspirations have been affected by COVID-19. Individual data will not be identifiable. Only key themes will be shared with other agencies.

Random prize draw for UE Boom 3 & additional prizes to be completed at the closure of survey – 5 pm Wednesday 3rd March 2021. One entry per person.