Latest News
Published: 21 July, 2020
Kia ora,
You may have read about the paracetamol tablet shortage already. This email message gives you more detail about the shortage and how it is being managed. Please forward on to your teams and health professionals within your organisations.
Paracetamol 500 mg tablet in short supply
The supplier API Consumer Brands has advised us that they continue to have a supply issue for paracetamol 500 mg tablets. These stock issues are due to the impact of COVID-19, which has decreased capacity at international manufacturing plants and made it difficult to obtain flights out of India to transport stock to Aotearoa, New Zealand.
COVID-19 is likely to have global impacts on medicine manufacturing and supply chains for the remainder of 2020 and beyond.
How much stock is available in New Zealand?
The supplier has advised us that stock for dispensing on prescription is likely to run out at the end of July. We are working with the supplier to source alternative stock. We have no visibility of stock levels in the retail sector, including in supermarkets.
What this means for whānau
This means some patients may find their pharmacy is unable to immediately fill their prescription for paracetamol 500 mg tablets.
Currently, Pharmacare paracetamol is the only contracted brand of funded paracetamol for prescription in the community. 
What PHARMAC-Te Pātaka Whaioranga is doing
We are working with the supplier on securing stock or alternative brands of paracetamol 500 mg tablets and will provide a further update when we have more information.
We restricted the dispensing of paracetamol 500 mg tablets in March because of ongoing supply issues caused by COVID-19, which means that Pharmacists can only dispense one month's supply of paracetamol 500mg tablets.  We put this restriction in place on 9 March 2020. Many other medicines are returning to all-at-once dispensing on 1 August 2020 Pharmac.govt.nz/dispensing  but paracetamol 500mg tablets will remain on one-month dispensing.
Information for pharmacists
We understand that some pharmacies may have already run out of stock of paracetamol 500mg tablets for prescriptions. The supplier is releasing the remaining stock they currently hold to the wholesalers. 
Pharmacists have asked if they can dispense loose tablets of paracetamol (pharmacode 2524147) from the 500mg tablet bottles instead of from the 500mg tablet blisters.  Pharmacists can only dispense the loose tablets from bottles if they comply with the requirements in Medicines Regulations relating to the labelling of safety containers. This means that they are required to have written authorisation from the authorised prescriber.
PHARMAC is not responsible for labelling requirements, so if you have any questions about labelling please contact Medsafe at the Ministry of Health by email,medicinescontrol@health.govt.nz
Further information
Keep up to date via our website pharmac.govt.nz/paracetamol.  If your question is not covered on the website please email enquiry@pharmac.govt.nz
Published: 8 July, 2020
SENIOR NET  MARLBOROUGH SOUNDS ARE ON THE ROAD
Members of your community now have the opportunity to learn those skills you realised you did not have during lockdown.
Available now
Mini Courses
We are offering 1:1 or group 2-hour sessions on subjects of your choice
Let's know what interests you and we will arrange a tutor, venue and time with you free and in your community.
To book or enquire, contact Senior Net  Marlborough Sounds Secretary Ian Cameron ianc.cameron@xtra.co.nz  or 021 059 8713. (03) 574 2558
Published: 7 July, 2020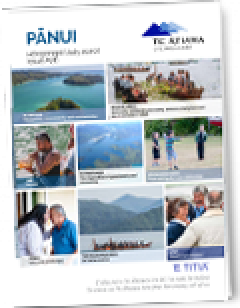 Published: 26 June, 2020

Te Pataka Kairuruku Position Description - (205 KB Adobe Acrobat PDF file) »