Latest News
Published: 25 October, 2018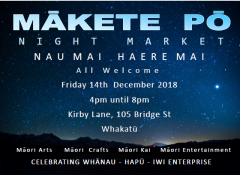 Night Market
Mākete Pō/Night Market Panui
Whānau – Hapū - Iwi
Mākete Pō/Night Market is centred on whānau in a vibrant Nelson location of Kirby Lane 105 Bridge Street offering a relaxing stroll through market feel with an entertaining atmosphere. If you would like a stall please see attachments for more details as places are limited.
Makete Po Stallholders Info and Rego Forms - (89 KB unknown) »
Published: 17 October, 2018
Local Marine Science opportunity for Te Ātiawa students from 7 -16 November 2018
AN OPPORTUNITY FOR TE ĀTIAWA UNIVERSITY AND HIGH SCHOOL STUDENTS – PLEASE RESPOND SOON!
Local Marine Science opportunity for Te Ātiawa students from 7 to 16 November 2018
(Led by Professor Conrad Pilditch of the School of Science, University of Waikato)
Marlborough Sounds' research
Conrad (Professor Pilditch) has research plans that will provide for several (2-3) young Maori students to be 'out in the field with us' to share in data collection (Nov 7-16). Ideally, these young people would be students (university/high school) with an interest in the marine environment and wanting long term to be future environmental leaders. We would hope (especially if their time was being paid for - see below*) that these students would prepare a short report on their experiences and being willing to share it with their iwi. If there was interest, we could look into developing more science involvement through participating in longer-term research programs.
After discussing how flexible these arrangements might be, Conrad has said:  "For the time we are here, we would be very flexible with any interested Te Ātiawa students, e.g., the full duration (as above), a day, a half-day, or some hours of involvement can be accommodated."
(*There is a fund available to facilitate iwi participation in research, so, if there was interest, we could fill in a short application for money to cover the costs of engagement/participation activities.)
If you would like to be involved please contact:
Ian (Shappy) Shapcott at the Trust's RM Office in Waikawa
Rohe Management Team
Te Ātiawa Manawhenua Ki Te Tau Ihu Trust
Beach Road, Waikawa Marina, Waikawa, Picton 7220
(PO Box 340, Picton 7250)
Phone : 03 573 5170
Or
Conrad (Professor Pilditch)
School of Science
University of Waikato  
Hamilton 3240              p  +64 7 837 9393     
New Zealand                e   conrad.pilditch@waikato.ac.nz
http://conradpilditch.wordpress.com/
Published: 12 October, 2018
Career Opportunity
Te Rūnanga o Ngāi Tahu have 3 job vacancies, for more information click on links below:
·         Iwi Engagement Advisor: https://lnkd.in/ea3u9aY 
·         Senior Communications Advisor: https://lnkd.in/ehQf7Kd 
·         Communications Advisor: https://lnkd.in/eMmdT5F 
Published: 4 October, 2018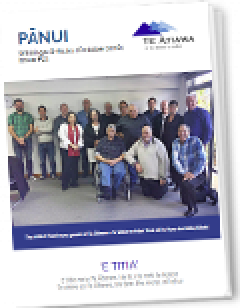 (October 2018)
Published: 21 September, 2018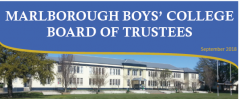 Newletter September 2018 - (769 KB Adobe Acrobat PDF file) »