Latest News
Published: 9 August, 2019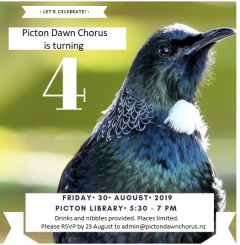 Published: 9 August, 2019
Health in all Policies Advisor
1

2 Month Fixed Term, Full Time role

Join us to influence and shape policies in our region for improved health and wellbeing

Understanding how equity impacts on health outcomes and work with partners to identify robust solutions
Our Purpose: Why we do it
When you work with the Canterbury District Health Board, you're part of something very special. We plan, fund and deliver health services to the almost 600,000 people that live in the Canterbury region. Our primary goal is to put people at the heart of everything we do.
The Team: What we do
The CDHB are leading the way to ensure health and wellbeing considerations are integrated across all sectors including all policy development and we are looking for a Health in All Policies Adviser to join the team.
Based in our Community & Public Health office in Christchurch, we are a small team, dedicated to working with iwi, leaders, stakeholders and policy makers using a Health in All Polices framework.
You'll spend your time liaising with CDHB staff as well as key stakeholders within other sectors such as local government, Non-Government organisations and government agencies. Your ability to analyse complex information, write reports, facilitate meetings, coordinate joint pieces of work, and your networking skills will be put to good use in this exciting role.
The Role: Where you fit in
In this role, you will be responsible for:
You'll need to be a great team player but you'll also need to use your initiative to champion this way of thinking. Your ability to form mutually beneficial relationships and communicate new ideas is essential.
To provide support for the development and coordination of  submissions for Community and Public Health and the wider DHB
To build and maintain working relationships with key organisations  that influence and or  impact on public health
To support capacity building activities to support a health in all policies framework  both internally and externally
Support the use and roll out of Health in all Policies tools and methodologies e.g. Health Impact Assessment, especially in relation to earthquake recovery.
Lead the process of developing clear communications about Health in all Policies both within the DHB and external agencies.
Your skills will include:
Essential:
Relevant tertiary qualification
Demonstrated leadership capabilities
Demonstrated ability to engage with a wide range of stakeholders and deliver collaborative outcomes
Proven experience in current facilitation methods
Experience in developing and managing projects
Well developed communication skills
Proven writing skills in a range of formats, i.e. reports, newsletters, submissions.
Demonstrated analytical skills
Demonstrated self starter
Proven experience in working across sectors
Experience working in a bicultural framework
This is a full time, fixed term position covering parental leave until end August 2020.
To read more about Health in All Policies check out our page at http://www.cph.co.nz/Files/CHIAPPInfoSheet1.pdf
Our Culture: What matters to us
Ko ngā tāngata, te mātua mahi
Putting people at the heart of all we do 
Health is ultimately all about people. What's important around here is the way we care for and respect others, the responsibility taken for delivering outcomes, and going about our work with integrity. 
Belonging Here: Becoming part of our story
Being part of the Canterbury District Health Board, you will enjoy a fantastic benefits scheme, the opportunity for flexible working arrangements and ongoing focus on your career development.
If this role has sparked your interest but does not match your skills then please visit our careers website and have a look at our roles that better suit your expertise.
If you are interested in this role please apply directly on our career site here. Please note only applications submitted via our career site will be accepted.
Contact us on recruitment@cdhb.health.nz for additional information.
Published: 6 August, 2019
Wānanga 13 Sep 2019 until August 2020
Wairakau Rongoa Maori Course Poster - (293 KB JPEG image - good for photos) »
Published: 5 August, 2019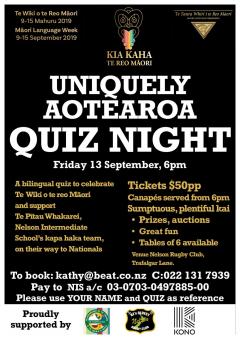 Kia ora e te whānau,
Join us for a fun night and take part in the UNIQUELY AOTEAROA BILINGUAL QUIZ NIGHT - FRIDAY 13th SEPTEMBER
Use some of that great matauranga you are learning and meet other te reo users at all levels  
Quiz - Questions in both te reo Māori and English 
Kai Canapēs served from 6pm and a plentiful supply of sumptuous Kai  (Special food requirements catered - Please advise)
Tables of 6 available  - Grab your workmates, whānau, or come individually and make new hoa.
Haere Mai Everyone welcome 
Contact  kathy@beat.co.nz   C 022 131 7939
Wiki o Te Reo Maori2 - (260 KB JPEG image - good for photos) »
Published: 5 August, 2019
Te Tautoko Ora is currently contracted to deliver the Kia Ora e Te Iwi programme to the Nelson/Marlborough region.  
We would welcome your support to post our flyers on your notice boards, e-newsletters, facebook pages and or websites to advertise our deliveries being held in Te Tau Ihu for the 2019 period.  
August        24th & 25th at       Te Hora Marae
September   7th & 8th    at       Waikawa Marae 
and 
October        5th & 6th              Whakatu Marae  of 2019.
If you know of any person or whanau who would benefit from participating in this 2-day educational event then please feel free to share our contact details for registration to the programme.  This programme is designed for Maori by Maori for our whanau maori to understand the support available to them while caring for a loved one diagnosed with cancer.  Your support in this kaupapa will make a difference in the lives of cancer patients and their whanau.
All registrations can be referred back to our number provided.
He whakaaronui o te whakatauki....
He aha te mea nui o te ao, 
He tangata, he tangata, he tangata!
Our thanks and gratitude for any support you give to this kaupapa.
Ngamihinui