Latest News
Published: 26 October, 2018
Kaitiaki Whenua Program
Project Moturoa brings together two powerful kaupapa in Te Tau Ihu. The Regional Intersectoral Forum is committed to a vision for Te Tau Ihu Māori to flourish. The Te Tau Ihu Alliance Group (Kotahitanga mō te Taiao) offers up a vision for environmental leadership across our rohe.
Together this opens up opportunities where we can enhance the mauri of the environment and the people in an interconnected way. Project Moturoa and its Wānanga aims to do just that.

Moturoa Wananga Info Pack 4 - (768 KB Adobe Acrobat PDF file) »
Published: 26 October, 2018
Below are the next exciting events in our Summit Marlborough Heritage Festival series.
Come and join in the fun!!
Special Guided Tour of The Edwin Fox
THIS SATURDAY - 27 October 12pm–1pm
Edwin Fox Maritime Museum, 1 Auckland St, Picton
Free admission
Discover the secrets of the Edwin Fox Ship with dynamic Manager Karen McLeod.
Please book by emailing info@edwinfoxship.nz.
Marlborough Vintage Farm Machinery Open Day
Sunday 28 October 10am–3pm
Vintage Farm Machinery, Brayshaw Park, 26 Arthur Baker Place, Blenheim
Gold coin donation
Working displays of restored vintage machinery with Thomas the Tank Engine rides. Morning tea, afternoon tea and lunches available.
Marlborough Heritage Movies in Picton – A series of Cinematic Gems
Sunday 28 October 2pm – 4pm
Picton Little Theatre, 9 Dublin St, Picton, Picton
$5 tickets with a gold coin donation for afternoon tea.
A Picton Little Theatre and Picton Smart and Connected Heritage Event.
Great Songs from the Heart
Friday 2 November 6pm–7pm
Old Tua Marina Church, Brayshaw Park, 26 Arthur Baker Place, Blenheim
$10. All funds going towards the restoration of Old Tua Marina Church (1875).
Local musicians Steve Austin and Barry Holdaway - back by popular demand!
Door sales may be available on the night but we anticipate the concert will be sold out by then, so get your tickets early from Marlborough Museum.
Ukulele Workshop with International Sensation Hugo Del Mar
Saturday 3 November 11am–1pm
Marlborough Museum Theatre, 26 Arthur Baker Place, Blenheim
$5with a pot luck lunch. Bookings essential. Contact Marlborough Museum at info@marlboroughmuseum.org.nz.
Workshop for intermediate and advanced players of all ages. Hits from the 60s and 70s.
Steampunk 101
Sunday 4 November 2pm–3pm
Marlborough Museum Theatre, 26 Arthur Baker Place, Blenheim
R16
Inspiration and guidance for Steampunk Wannabies 16-60+ years, with Steampunk Ambassador Captain Ava, followed by Devonshire Tea $5.
RSVP by Tuesday 30th October: info@marlboroughmuseum.org.nz
Sing Your Heart Out!
Sunday 4 November 3:30pm–5pm
Marlborough Museum, 26 Arthur Baker Place, Blenheim
All Ages
$5 - Door sales only. Additional fees may apply.
Interdenominational Hymns at Old Tua Marina Church with the wonderful Barry Parker and Steve Austin, followed by afternoon tea.
$5 entry goes towards the restoration of Old Tua Marina Church at Brayshaw Heritage Park.
Published: 25 October, 2018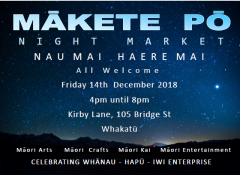 Night Market
Mākete Pō/Night Market Panui
Whānau – Hapū - Iwi
Mākete Pō/Night Market is centred on whānau in a vibrant Nelson location of Kirby Lane 105 Bridge Street offering a relaxing stroll through market feel with an entertaining atmosphere. If you would like a stall please see attachments for more details as places are limited.
Makete Po Stallholders Info and Rego Forms - (89 KB unknown) »
Published: 17 October, 2018
Local Marine Science opportunity for Te Ātiawa students from 7 -16 November 2018
AN OPPORTUNITY FOR TE ĀTIAWA UNIVERSITY AND HIGH SCHOOL STUDENTS – PLEASE RESPOND SOON!
Local Marine Science opportunity for Te Ātiawa students from 7 to 16 November 2018
(Led by Professor Conrad Pilditch of the School of Science, University of Waikato)
Marlborough Sounds' research
Conrad (Professor Pilditch) has research plans that will provide for several (2-3) young Maori students to be 'out in the field with us' to share in data collection (Nov 7-16). Ideally, these young people would be students (university/high school) with an interest in the marine environment and wanting long term to be future environmental leaders. We would hope (especially if their time was being paid for - see below*) that these students would prepare a short report on their experiences and being willing to share it with their iwi. If there was interest, we could look into developing more science involvement through participating in longer-term research programs.
After discussing how flexible these arrangements might be, Conrad has said:  "For the time we are here, we would be very flexible with any interested Te Ātiawa students, e.g., the full duration (as above), a day, a half-day, or some hours of involvement can be accommodated."
(*There is a fund available to facilitate iwi participation in research, so, if there was interest, we could fill in a short application for money to cover the costs of engagement/participation activities.)
If you would like to be involved please contact:
Ian (Shappy) Shapcott at the Trust's RM Office in Waikawa
Rohe Management Team
Te Ātiawa Manawhenua Ki Te Tau Ihu Trust
Beach Road, Waikawa Marina, Waikawa, Picton 7220
(PO Box 340, Picton 7250)
Phone : 03 573 5170
Or
Conrad (Professor Pilditch)
School of Science
University of Waikato  
Hamilton 3240              p  +64 7 837 9393     
New Zealand                e   conrad.pilditch@waikato.ac.nz
http://conradpilditch.wordpress.com/
Published: 4 October, 2018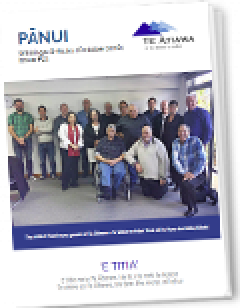 (October 2018)