Published: 19 July, 2019
* Archived - This article has expired and is published for archival purposes only.
Dawn Picton Chorus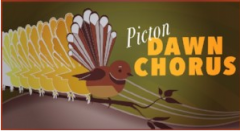 Hi there!

We have a couple of exciting events to tell you about!

At the end of August we will be celebrating PDC's 4th Birthday! We will be having a little celebration in the early evening on Friday 30 August. Please mark the date in your diary and we will come back to you with more details shortly.

Then on Sunday 22 September we will be co-hosting the "Top of the South Trapping Workshop" together with the Department of Conservation, Kaipupu Wildlife Sanctuary and Nelson Nature. The details of the event are provided in the attached invitation. Please make sure that you RSVP to wsullivan@doc.govt.nz.

Finally, if you are also in our database as a Garden Trapper, you will be receiving a very short and easy survey. We are planning to increase the focus and effort on predator control in the urban area. It would be a great help to us if you could please respond to the survey.

We hope that you have been having a good, and rodent free, winter!

Best wishes
The PDC Team

https://gallery.mailchimp.com/238974e2ac2549959bee27aaa/images/92f72ff6-9350-4121-b43d-1f016547a15f.jpg
« Back.