Latest News
Published: 23 January, 2019
Tēnā koutou katoa
Tēnei te mihi maioha ki ā koutou ki ā tātou katoa i roto i ngā ahūatanga ō te wā me te tau hou. E maumahara ake ngā tini mate kua hinga atu nei, haere e ōki kāti, rātou ki ā rātou, tātou ki ā tātou huri noa ki ngā kanohi ora ō te wā.
Hope everyone has had a great Christmas and happy New Year!
I am emailing the following link https://www.nmit.ac.nz/study/applying/fees-costs-and-financing/scholarships/ that highlights all the tertiary scholarships relevant for people wanting to study at NMIT in 2019, with a link to apply for a scholarship at the top of the page, that you may want to promote amongst your iwi membership to encourage studying within Te Tau Ihu.  Links for further information about the scholarships are also provided.
There are three Māori scholarships available being the George Martin Scholarship (to support Māori students descended from Te Tau Ihu iwi and studying at the Marlborough Campus); Kaiapa Jack Kohe Scholarship (to support Māori students studying full-time at NMIT with priority given to students of Ngāti Koata descent); and the Pene Ruruku Memorial Scholarship (to support Māori students studying full-time at NMIT).   
There is also one scholarship, Kono Ahumahi, that is a partnership between Wakatū Incorporation and NMIT that is available to those that are a descendant of Wakatū Incorporation to support study in aquaculture and viticulture. 
Nā reira,  mā te atua e manaaki ki a koe me tou whānau hoki.
Noho ora mai
Andrew (Anaru) Luke
Executive Director – Māori
He aha te mea nui o te Ao? He tangata, he tangata, he tangata
What is the most important thing in the world? It is people, it is people, it is people
Published: 21 December, 2018
Letter from District Commander Mike Johnson updating Iwi in Te Tau Ihu Waka a Maui on initiatives and activities to achieve our target - 25% reduction in re offending by Maori by 2025.
Letter attached

DC Iwi letter update December 2018 - (140 KB Adobe Acrobat PDF file) »
Published: 20 December, 2018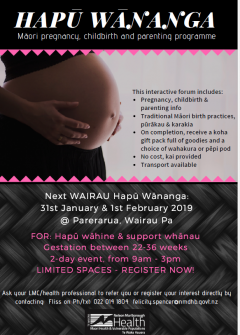 Published: 18 December, 2018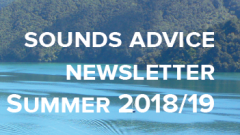 Sounds Advice Newsletter 2018 - (2.9 MB Adobe Acrobat PDF file) »
Published: 7 December, 2018