Latest News
Published: 11 June, 2018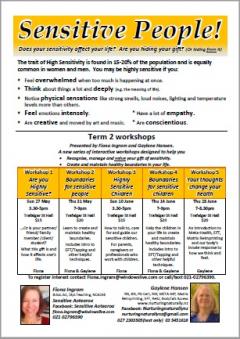 Presented by Fiona Ingram and Gaylene Hansen. A new series of interactive workshops designed to help you
Recognise, manage and value your gift of sensitivity.
Create and maintain healthy boundaries in your life.

Sensitivity workshops Term 2 - (1.6 MB Adobe Acrobat PDF file) »
Click here for more information »
Published: 11 June, 2018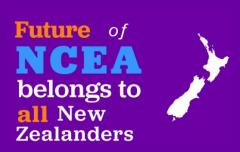 The future of NCEA belongs to all New Zealanders
The Government is looking at ways to strengthen NCEA that will benefit all our young people. But we need your help to make it happen.
Over the next few months we want to hear from thousands of people across New Zealand from a range of backgrounds. Everyone with an interest in NCEA is invited to share their experiences and ideas. In English or Te Reo Māori, online or on paper, at workshops or hui, or through social media - you choose.
Find out more here: https://conversation.education.govt.nz/conversations/ncea-have-your-say/
Published: 11 June, 2018
What is available:
This agreement provides seed funding to help Te Atiawa to have initial conversations with all stakeholders and start the processes that will lead to production of resources and children learning about Te Atiawa.
Please refer to the draft agreement below to give you a sense of what the agreement might look like.
Here is a website to provide you with more information: http://www.education.govt.nz/assets/Documents/Early-Childhood/EL-Bulletin/GI-National-Sestercentennial-250th-Commemoration-Tuia-Matauranga.pdf
Draft Procurement agreementTe Atawa2 - (71 KB Word document) »
Published: 29 May, 2018
Te Pātaka o Wairau Night Market will be held on Friday 14 September, 4-9pm at Seymour Square in Blenheim.
The last market was an overwhelming success with food stalls selling out fast!  We are keen to get more stalls this time and make it even bigger!
The market coincides with Te Wiki o Te Reo Maori 2018 and so we're sharing the theme - Kia Kaha te Reo Māori! This event is held under the Korowai of Manawhenua Iwi, Rangitane o Wairau, Ngati Rarua o Wairau and Ngati Toa o Wairau and is open to everyone to attend. Nau Mai Haere Mai!
If you are interested in having a stall please email tepatakaowairau@gmail.com or call Te Ra Morris on 021943983.