Latest News
Published: 8 April, 2019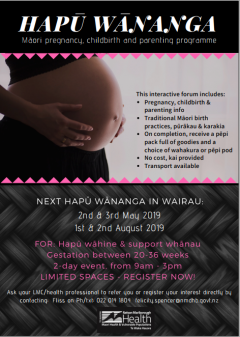 Hapu Wananga 2019 Wairau - (857 KB Adobe Acrobat PDF file) »
Published: 29 March, 2019
"We realised people were really hungry for free te reo lessons and we sort of created a bit of a movement I suppose, a bit of a taniwha, a bit of a beast, and we're really excited about it," Mr Matthews said.
"We have a wee food truck and we've booked out town halls and school halls in the hope that people will come along and learn a bit of te reo Māori, and hopefully buy some kai from us as well."
They'll begin the tour in Greymouth and then to Westport. After that, they'll travel to Timaru and Ashburton. In May they'll head north to Nelson and Blenheim, and back down through the East coast to Kaikoura.
They'll end their journey in the deep South, travelling to Dunedin and Queenstown.
"You've got normal Joe Bloggs New Zealanders starting to realise that te reo Māori is part of our cultural identity as kiwis," he said.
"I always give the example of the haka. We all get very proud when the All Blacks do the haka, but if we want to own the haka and be proud of the haka, then we need to own te reo Māori as well.
"You can't just have the haka or tā moko and not take time to learn te reo Māori. The two go hand in hand. Culture and language. I think New Zealanders are starting to realise that."
The people turning up to learn te reo Māori were diverse, he said.
"Every location I go to there are young, there are old, there are sometimes babies and there are 90-year-olds.
"They are Māori, they are Pākehā, they are tourists. The crowds are always a mix, it's like a fruit salad, and it's awesome to see."
The lessons will cover correct pronunciation, and basic words and phrases people can use at home and in the workplace.
"We'll teach practical language, words like 'homai' which means 'pass me'. It will be a very practical approach and we'll teach people words they can use immediately."
Published: 22 March, 2019
SUMMARY
Measles is highly contagious – and easily preventable.
It affects both children and adults.
2 doses of the measles vaccine provides the most effective protection for yourself, your family and the wider community. After 2 doses of the MMR vaccine, more than 95% of people are protected from measles.
In New Zealand, if you were born in 1969 or later, you can get the measles vaccine for free.
Vaccination is particularly important if you are planning to travel anywhere overseas – to protect yourself and to help prevent outbreaks in New Zealand.
The number of confirmed cases of measles in Canterbury now stands at twenty-five and is likely to rise further over the coming days and weeks. It can now be assumed that measles is circulating widely in our community.
Under-immunised people who come within two metres of an infectious person, however briefly, have a 90% chance of contracting measles.
Measles is a serious, highly infectious, potentially life-threatening disease. Up to 30 percent will develop complications – usually children under five. Measles during pregnancy increases the risk of miscarriage, premature labour and low birth-weight in babies.
Under-immunised people exposed to measles first develop a respiratory type illness with dry cough or runny nose or conjunctivitis and a temperature over 38.5 C and a rash. People are considered infectious from 5 days before, until 5 days after, the rash first appears.
The best protection is for people born after 1969 is to have had two MMR (measles, mumps and rubella) vaccinations.
How measles spreads
Measles is a highly infectious virus that spreads easily from person to person through the air, via breathing, coughing and sneezing. It affects both children and adults.
If you catch measles you are infectious 5 days before and until 5 days after the rash appears.
Anyone with measles needs to be isolated from the time they become ill until 5 days after the rash has appeared. Isolation means staying at home and missing out on things like school, work, sporting competitions and social events. 
It is extremely important to stay in isolation if you're asked to do so, to protect vulnerable people including babies, pregnant women, cancer patients and others who are unable to be immunised.
If you are exposed to measles and can't prove that you're immune (for example, by showing your immunisation record), you'll need to be isolated for at least 14 days.
Schools and child care centres have the legal power to exclude unvaccinated children when there is a risk of measles being spread.
Measles complications
Measles can be life threatening: about 1 in 10 people with measles will need hospital treatment.
Measles can also lead to other complications, including:
ear infections (which can cause permanent hearing loss)
diarrhoea
pneumonia
seizures
swelling of the brain – this is rare, but can cause permanent brain damage or death.
Up to 30% of people with measles will develop complications – usually children under 5 and adults over the age of 20.
Measles during pregnancy increases the risk of miscarriage, premature labour and low birth-weight babies.
Published: 22 March, 2019
Taranaki Maunga Engagement Hui

TMTB Maunga Hui 2019 Updated2 - (466 KB Adobe Acrobat PDF file) »