Latest News
Published: 28 May, 2019
May 2019 Newsletter
Published: 23 May, 2019
Thank you to everyone who joined us for the Nelson Festivals Trust Strategy Launch at The Boathouse last night.
If you weren't able to be with us, you can view the Strategy here.
To learn a little more about the Nelson Festivals Trust board members, click here.
If you would like to contact any of the Trust members, please email info@nelsonartsfestival.nz
Ngā mihi
Nelson Arts Festival
18-28 October 2019
PO Box 597, Nelson 7040
Published: 21 May, 2019

NBCA Newsletter No 1 May 2019 - (1.2 MB Adobe Acrobat PDF file) »
Published: 20 May, 2019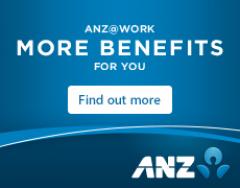 ANZ has partnered with Te Atiawa Trust to offer its members special banking benefits. The ANZ@work Standard Package offers you personal banking benefits such as discounts and fee waivers on some ANZ products.
Find out more about the ANZ@work Standard Package , and register your interest online, visit any ANZ branch or call 0800 269 296.


Package Flyer - (842 KB Adobe Acrobat PDF file) »
Published: 20 May, 2019
Two new Whānau Ora Directors appointed to Te Pūtahitanga o Te Waipounamu
Te Pūtahitanga o Te Waipounamu Taumata (iwi stakeholder board) has appointed two new board directors to the governance board, the General Partner Limited Board (GPL).
Today the Whānau Ora Commissioning Agency for the South Island, Te Pūtahitanga o Te Waipounamu, held a whakatau to welcome Tā Mark Solomon and Sally Pitama who have been appointed as directors to the GPL Board.
GPL Chair Trevor Taylor says, "Our new directors bring significant expertise to their roles. Their contribution to the governance of Te Pūtahitanga o Te Waipounamu will be invaluable as we endeavour to extend reach and coverage right across Te Waipounamu, in serving the interests of whānau.
"We look forward to a strengthened GPL with our full contingent of five members, as we continue to work with the Minister for Whānau Ora to influence and grow the significant impact of Whānau Ora which needs to happen within the wider Government and philanthropic sector".
Tā Mark Solomon (Ngāi Tahu, Ngati Kurī), was born and raised in Christchurch where he lives there with his wife Maria, their children and extended whānau. Tā Mark served as kaiwhakahaere (chairperson) of Te Rūnanga o Ngāi Tahu, the tribal council of Ngāi Tahu, for approximately 18 years, from 1998 until December 2016. Solomon continues to act in various directorship roles including as chair of the Canterbury District Health Board.
Tā Mark is also the South Island representative on the interim, Te Roopu, The Māori advisory group to the Government's joint venture on family violence and sexual violence. Tā Mark has been a strong advocate in Te Waipounamu for Tū Pono: Te Mana Kaha o te Whānau, a whānau-driven movement that has a focus to explore ways of enabling a stronger Māori response to reduce and eliminate family harm/violence.
"Our moemoeā back in 2013 was for all the tribes of Te Waipounamu to come together as one, for the single-most important pursuit of our time, investing in our whānau. We always knew that we were stronger together. I am so pleased to be back doing what I love best, serving the aspirations of our whānau".
Sally Pitama (Hotu Mamoe, Ngāi Tahu, Ngāti Toa) works as a Te Runanga o Ngāi Tahu Refugee and Migrant Sector Advocate. In her role as multi-cultural advisor, Sally has played an integral part in the establishment of the Migrant Inter-Agency group, set up in 2011. She has also worked in advisory roles offering insights to a wide range of groups such as Canterbury Family Violence Collaboration and in social impact projects such as Kai Baskets.
"The experiences we as Ngāi Tahu, as Waitaha, as Aotearoa have been through over these last weeks has been both harrowing and unifying" said Taua Sally. "The common call for kotahitanga has extended across ethnic, cultural, religious and national divides, and instead brought us all much closer together. In the sphere of Whānau Ora, the expression of manaakitanga is a vital platform for change. I am so proud to be part of this movement forward".