Latest News
Published: 15 April, 2019
What makes a good life?
Today the Office of the Children's Commissioner and Oranga Tamariki released their joint report  - What makes a good life?. It provides an overview of what they heard from more than 6,000 children and young people, commissioned as part of the wider public engagement to inform the Child and Youth Wellbeing Strategy.

Along, with responses from an online survey, it includes feedback from face-to-face interactions with those whose voices are less often heard; for instance children with disabilities and young people in alternative education centres or in the youth justice system.
They talked about what the good life looks like to them, the things that get in the way, and what we need to focus on to make things better. While most children are enjoying many elements of wellbeing, up to a third indicated they were facing challenges in some aspect of their life, and one in ten face multiple challenges. These include racism, discrimination, bullying, poverty, violence and drugs.  Overwhelmingly, young people have said they want to be accepted for who they are and who they want to be.

This in-depth feedback from children and young people will be included in our analysis of all submissions, survey responses and feedback from the wider public engagement. We will publish a summary report of findings from all our engagement in coming weeks. These findings will help inform the development of the first Child and Youth Wellbeing Strategy, due to be launched later this year.

Read the 'What makes a good life? report

 
Published: 8 April, 2019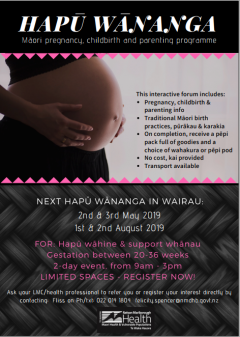 Hapu Wananga 2019 Wairau - (857 KB Adobe Acrobat PDF file) »
Published: 4 April, 2019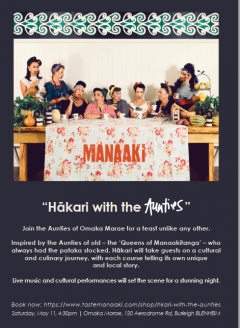 Hakari with the Aunties - (783 KB Adobe Acrobat PDF file) »
Published: 29 March, 2019
"We realised people were really hungry for free te reo lessons and we sort of created a bit of a movement I suppose, a bit of a taniwha, a bit of a beast, and we're really excited about it," Mr Matthews said.
"We have a wee food truck and we've booked out town halls and school halls in the hope that people will come along and learn a bit of te reo Māori, and hopefully buy some kai from us as well."
They'll begin the tour in Greymouth and then to Westport. After that, they'll travel to Timaru and Ashburton. In May they'll head north to Nelson and Blenheim, and back down through the East coast to Kaikoura.
They'll end their journey in the deep South, travelling to Dunedin and Queenstown.
"You've got normal Joe Bloggs New Zealanders starting to realise that te reo Māori is part of our cultural identity as kiwis," he said.
"I always give the example of the haka. We all get very proud when the All Blacks do the haka, but if we want to own the haka and be proud of the haka, then we need to own te reo Māori as well.
"You can't just have the haka or tā moko and not take time to learn te reo Māori. The two go hand in hand. Culture and language. I think New Zealanders are starting to realise that."
The people turning up to learn te reo Māori were diverse, he said.
"Every location I go to there are young, there are old, there are sometimes babies and there are 90-year-olds.
"They are Māori, they are Pākehā, they are tourists. The crowds are always a mix, it's like a fruit salad, and it's awesome to see."
The lessons will cover correct pronunciation, and basic words and phrases people can use at home and in the workplace.
"We'll teach practical language, words like 'homai' which means 'pass me'. It will be a very practical approach and we'll teach people words they can use immediately."