Latest News
Published: 30 January, 2019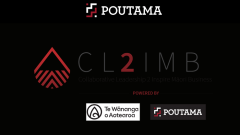 Kia ora
CL2IMB partners are on the road and heading to Te Waipounamu in April 2019.

Registrations are now open for CL2IMB Ōtepoti on Wednesday 3rd April at Innov8HQ, 123 Vogel St, Dunedin and CL2IMB Ōpawa on Thursday 4th April at the Scenic Hotel Marlborough, 65 Alfred St, Blenheim.

CL2IMB - Collaborative Leadership 2 Inspire Māori Business. A 3-hour event designed to share information, opportunities and connections to support and accelerate business success. It is a collaboration between provider organisations, agencies, regional networks and Māori enterprises to share funding, training, services and business tips.

2018 Feedback:
• "Excellent platform to share snippets of information without wasting time".
• "Big mihi to organisers for an event that breaks down barriers and brings enterprises and service providers together".
• "We really enjoyed the evening. The providers were very informative and we left feeling very motivated".
• "It was amazing. I spoke to one of the presenters about funding opportunities for my business. He gave me a true and accurate idea about who to contact and who's a waste of time (as I'm not ready)".
This event is for both businesses and agencies to gain the knowledge and connections to access the resources available and to establish and strengthen your local networks.
Spaces are limited so click now to register for CL2IMB Ōtepoti and CL2IMB Ōpawa. Please also share the event your clients, colleagues and motivated networks.
CL2IMB is a free event thanks to our sponsors: Te Wānanga o Aotearoa; NZ Māori Tourism; and Māori Women's Development Inc and the support or our regional partners.
We look forward to seeing you there.


CL2IMB - POWERED BY TE WĀNANGA O AOTEAROA AND POUTAMA
FOR MORE INFORMATION PLEASE CLICK ON THE LINK: https://cl2imb.conference.maori.nz/next-event-7/  
Published: 30 January, 2019
The Independent Panel considering the 2014 family justice system reforms is seeking feedback on their ideas for reform from today (23 January 2019). Submissions close on 1 March 2019.
"Following our initial round of consultations, the Panel has some suggestions for change," says Rosslyn Noonan, Panel Chair.
"We want to hear from the people who submitted to us, from people who work in family justice services, and people who have used those services. We want their views on the proposals we are developing.
"We are open to the suggestions being challenged and there are a number of issues we are still considering. It's therefore essential that we hear from people with a wide range of experiences across the family justice system. The final report will be strengthened by the responses we receive."
The Panel undertook its first round of consultations between September and November 2018.
"Across New Zealand, parents, grandparents, caregivers, children and young people and their whānau told us about the difficulties they experienced in the Family Court and with related services."
"Many of the professionals we met, or who made submissions, spoke of significant barriers to timely, fair, long-lasting resolutions to those disputes. Early evaluations of the effect of the 2014 changes and current research support these concerns," says Ms Noonan.
The Panel considers that the Family Court and related services should work in a joined-up way that is accessible and responsive to families' different needs.
"We envisage a network that brings together the Family Court and a range of services. This Family Justice Service, would form a korowai, a cloak for separating parents, caregivers, and whānau who need help making decisions about their children," says Ms Noonan.
"The Service must be visible, informative, accessible, responsive, and cohesive. It should encourage and support people to agree on decisions about their children and mokopuna at the earliest time and in the least adversarial way. The Panel agrees it is in the best interests of children if arrangements for their care and decisions about them can be decided without having to go to court, which is inherently adversarial".
Specific proposals include:
making targeted counselling available
allowing people involved in care of children disputes unrestricted representation by a lawyer
allowing people to make an application to the Family Court at any time and without pre-conditions
establishing an effective triaging system when applications are filed in court, so cases needing urgent judicial attention are referred directly to a judge for directions
introducing new roles to improve how the court deals with applications, and to support joined-up family justice services.
The Panel is also working, amongst others, on proposals to ensure:
recognition of Te Ao Maori and integration of tikanga Maori in family justice services
systematic accommodation of people with disabilities
children can take part in a meaningful way and that their voices are heard
strengthening children's safety and the way family violence is dealt with.
The Panel will be submitting its final report to Justice Minister, Andrew Little in May 2019.
You can add your submission here:
Submit your views on strengthening the family justice system(external link)
More information about the Panel's consultation document can be found here:
Strengthening the family justice system - Q and A [PDF, 330 KB]
https://www.justice.govt.nz/about/news-and-media/news/strengthening-family-justice-system/
Published: 30 January, 2019

In August and September 2018, the Ministry of Justice sought feedback on a draft version of information sharing guidance for the family violence sector. The guidance document seeks to clarify the rules around information sharing that are introduced under the Family Violence Act 2018.
Today, we have released the report, Sharing information safely - Summary of Feedback: Guidance on sharing personal information under the Family Violence Act 2018. A copy of the report is attached to this email, and you can access it online at: www.justice.govt.nz/justice-sector-policy/key-initiatives/reducing-family-and-sexual-violence/a-new-family-violence-act/information-sharing-guidance
In general, feedback on the draft guidance was positive. Many accepted that information sharing that is done well, safely and appropriately, can benefit the people the sector works with.
Many of you suggested ways the draft guidance could be improved, including ensuring it is easy to use and relevant to the sector. It was clear that the guidance should focus more on victims, ensuring that they are involved in decisions related to the sharing of their information, where it is safe to do so. These views are reflected in the summary report.
Case studies
Throughout the submission process many people recommended that we further develop and improve the case studies used in the guidance. The case studies aim to provide real-world examples of how the information sharing process could work in practice.
If you were one of the generous individuals who offered to assist us in refining these examples, or would now like to volunteer, please let us know by replying to this email by 1 February 2019. We will be in touch to discuss the process for updating the case studies.
Next steps
We are updating the information sharing guidance, drawing on the comments made during the submission process. The updated guidance will focus on enabling safe, appropriate, and consistent practice across the sector.
The new information sharing provisions will come into force on 1 July 2019. The updated final version of the guidance will be released when the new provisions come into force.
Thank you again for taking the time to make a submission.

Ministry of Justice Information sharing guidance summary of feedback FOR RELEASE - (370 KB Adobe Acrobat PDF file) »
Published: 29 January, 2019
Wave Nine is driven by the whakatauki : Hurihia to aroaro ki te rā, tukuna to atarangi kia taka ki muri i a koe  (Turn your face to the sun and let the shadows fall behind you).
 This week's blog takes a look around the motu – from Mapua to Otautahi, from the land of Makaawhio to Paremata – seeing how the sun shines on all our whānau in their various initiatives.
 Have a read!
Published: 23 January, 2019

Alternate Director - Te Wai Māori
Tēnā koutou,
Te Wai Māori Trustee Limited (Te Wai Māori) is seeking interest from qualified and experienced candidates for the position of Alternate Director.
The Organisation
Te Wai Māori Trust (Te Wai Māori) was established under s. 92 of the Māori Fisheries Act 2004 (the Act). Our purpose is to advance Māori interests in freshwater fisheries through:
undertaking or funding research, development and education
promoting the protection and enhancement of freshwater fisheries habitat
promoting the establishment of freshwater fisheries
using resources to bring direct and indirect benefits to Māori in respect of their freshwater fisheries interests.
The Board
The role of the Board is to provide the leadership, governance, guidance and accountability for the performance of Te Wai Māori. The Board is comprised of 3 directors and 2 alternate directors and meets roughly 7 times per year.
The Position
Directors are appointed by Te Ohu Kaimoana Trustee Limited. Pursuant to the Te Wai Māori Trust deed and the Māori Fisheries Act 2004, directors may be appointed for a term not exceeding 4 years; and may be reappointed for 1 further full term. All Directors must be Māori, who collectively:
are well versed in matters of tikanga Māori; and
are experienced in working with Māori and Māori organisations; and
are experienced in fisheries management, enhancement, and development; and
have expertise and experience in matters relevant to freshwater fisheries; and
have knowledge of the special interest of iwi in freshwater fisheries.
The position is remunerated. For more information, please see the Director Position Description.
 https://teohu.maori.nz/wp-content/uploads/2019/01/Alternate-Director-Position-Description-Te-Wai-Maori.pdf
Applications close at 5pm on Friday 1 February 2019, and can be sent to info@tewaimaori.maori.nz
Ngā mihi,
Graeme Hastilow
(Acting) Kūrae Wai

HE PUNA WAIORA WELLNESS CENTRE PRACTICE NURSE - (237 KB Adobe Acrobat PDF file) »