Latest News
Published: 4 December, 2018
Tēnā koutou katoa e ngā rau rangatira mā,
I am writing to you on behalf of the Mayor and Council firstly to apologise for any hurt and offence caused by the Santa interpretation at the Santa Parade last weekend.
The Council provides a funding grant to the Santa Parade Trust who organise the Santa Parade, but Council have no influence on the organisation of the event. The Council was not aware of any engagement with local iwi on the Māori interpretation for the event, and we are deeply embarrassed as to the outcome of the day, and any negative criticism towards Māori that has arisen from the Santa Parade. However, the Council will be investigating as to why the change was made and without appropriate consultation, and how the preparation of the event can be improved in the future.
Should you require any further information please do not hesitate to contact me
Ngā manaakitanga
Pania Lee
Kaihautū | Office of the Chief Executive
Nelson City Council | Te Kaunihera o Whakatū
P 03 265 6933  M 022 015 3326 
Published: 4 December, 2018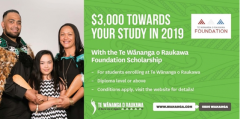 Te Wānanga o Raukawa Foundation Scholarships for ngā uri o Te Āti Awa, o Ngāti Raukawa, o Ngāti Toa Rangatira are now open! 
Do you have whānau thinking of studying in 2019 at Te Wānanga o Raukawa?  Spread the word and let them know they can now apply for a scholarship worth $3,000 towards their study fees.

Te Wānanga o Raukawa in partnership with the Te Wānanga o Raukawa Foundation are pleased to be able to provide these scholarships to encourage and support our people undertaking higher level study at diploma level and above.
For more information please visit the link: https://www.wananga.com/News/47/Te-Wānanga-o-Raukawa-Foundation-Scholarships
Published: 30 November, 2018

Tēnā koe.
The Māori Education Trust 2019 Scholarship Programme is open and offers scholarships to Māori secondary school and tertiary students who meet the respective scholarship's criteria. 
The 2019 Tertiary Scholarship Programme is made up of the following scholarships:
Undergraduate
Frances Irwin Hunt Art Scholarship
Nicholas Irwin Hunt Writing Scholarship
Norman Kirk Memorial Scholarship
Rose Hellaby Bursaries Scholarship
Roy Watling Mitchell Bursaries Scholarship
Sir Apirana Ngata Memorial Scholarship
Sister Annie Henry Scholarship
Tī Maru Māori Trust Scholarship
Postgraduate
Eric Hall McCormick Scholarship
Pae Tawhiti Scholarship (to open early 2019)
Queen Elizabeth II Postgraduate Fellowship
Rangiriri and Mātene Te Whiwhi Winiata Scholarship
Rose Hellaby Postgraduate Scholarship
Roy Watling Mitchell Prestigious Professions Scholarship
Tī Maru Māori Trust Prestigious Scholarship
Certificates, National Certificates and Diplomas:
Regina Rudland Memorial Scholarship
We will be adding new tertiary scholarships to our site next week.
We would appreciate it if you would pass the attached flyer to your staff, students, and those within your community who would benefit from a scholarship. 
While applicants are encouraged to apply on-line at www.maorieducation.org.nz, applicants can download an application form and guideline from the site, or contact us and we will forward copies by email or post.
If you would like more information, please do not hesitate to contact the office on 04 586 7971,
text: 027 262 8046, or email: info@maorieducation.org.nz.

2019 Tertiary Scholarship Flyer - (295 KB Adobe Acrobat PDF file) »
Published: 29 November, 2018
Picton Dublin St SPS Untreated Sewer Overflow 26th November 2018 - (3.2 MB unknown) »