Latest News
Published: 6 March, 2019
STAGE THREE WATER RESTRICTIONS
Due to the continuing dry conditions, Nelson City Council has now moved to stage three water restrictions in all urban areas.
Stage three restrictions place a total ban on the use of sprinklers and hoses, but hand watering with buckets and watering cans is still allowed.
As part of the stage three restrictions, Council is taking down the hanging baskets in the inner city and the watering of sports fields will cease (except for high value areas that will be too expensive to replace such as Trafalgar Park and Saxton Oval). Council will be hand watering some gardens and high value heritage trees. We have also reduced our water network flushing programme by 50 percent. The remaining flushing ensures that the water network meets the required level of drinking water standards. Steps are being taken to collect this flushed water for reuse in public spaces.
With no significant rainfall forecast, we ask all residents to comply with these water restrictions in order to protect the water supply for essential use in the longer term. Any further reductions that residents can make on a voluntary basis will be a great help.
Businesses are not included in the current restrictions but are urged to make any water savings they can on a voluntary basis.
For tips on water conservation for your home or property go to the Council's website www.nelson.govt.nz.
Nelson City Council properties on Tasman District Supply
For the properties near Richmond that are supplied with water from Tasman District Council, please be aware that their water restrictions apply.  Currently they are at Stage Four restrictions, but residents can stay updated with any changes on their website.
This applies to all residential properties adjacent to Champion Road as follows:
Boysenberry Way
Champion Road
Childs Way
Daelyn Drive
Fullford Drive
Hill Street North
Iti Lane
John Sutton Place
Joyce Place
Kakano Lane
Kapurangi Avenue
Kingi Place
Mako Street
Marino Grove
Marionberry Lane
Ngati Rarua Street
Taranaki Place
Published: 6 March, 2019
Applications can be accepted to this fund at any time.
Community Resilience Partnership Fund criteria
The objectives of the fund are to invest in initiatives which contribute to community resilience through meeting the following criteria:
Build community connection and activation
Are community-led and build on existing community strengths and reflect local context
Strengthen the capacity and capability of communities
Create collaborative ways of working
Encourage innovation and creativity and encourage and enable social enterprise
Remove barriers to participation and resilience.
Note: Funding cannot be used for: specialised mental health services or services to individuals; universal health promotion activities that replicate the "All Right" campaign and projects that are considered to be the primary responsibility of a Council, a central government agency or another agency.
Submit a proposal
Organisations who wish to apply to the Community Resilience Partnership Fund are required to complete a two stage process.
The first stage is to submit a brief proposal. The proposal needs to include the following information:
A clear explanation of how your project aligns to the criteria of the Community Resilience Partnership Fund
The level of funding being requested
A project timeline and budget (including confirmation of any funds raised) 
Name and contact details for further information.
Attach a copy of your most recent annual accounts - if more than 12 months old also supply a recent financial update 
Successful proposals to the Community Resilience Partnership fund will then be invited on to a second stage for a more in-depth assessment.
Unsuccessful proposals may be declined or referred to more suitable sources of funding.
Published: 6 March, 2019

Maori Health Review Issue 77 - (2.5 MB Adobe Acrobat PDF file) »
Published: 6 March, 2019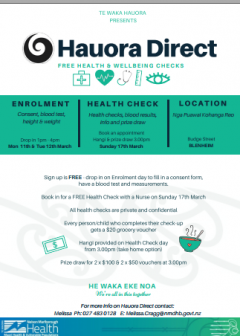 TWH Hauora Direct 2 - (130 KB Adobe Acrobat PDF file) »