Latest News
Published: 19 July, 2019
Te Tāhuhu o Te Mātauranga - About us.
Ko te reo Māori te kākahu o te whakaaro, te huarahi i te ao tūroa.
At the Ministry of Education, our people shape an education system that delivers equitable and excellent outcomes. Our sights are set on ensuring our education system serves every individual child and young person fairly, and creates the best foundation for equal opportunity. Our organisation is full of hugely talented people, from a wide range of backgrounds. They work collaboratively, setting goals and reaching them, to shape a world-leading education system. Our people are broadening their own horizons and, ensuring our education system is equipped to broaden the horizons of our children and young people, thus ensuring the best possible future for New Zealand.
Te Uepū Reo Māori
Ko tōku reo tōku māpihi maurea
E toro atu te ringa ki ngā oro puareare o te waokū o Tane te wānanga, koutou kei ngā pureke mowai o te Arareo Māori, e tā mātou uepū reo Māori. Ki te whai wāhi ai koe ki te reo Māori, ki Te Marautanga o Aotearoa, ki Te Aho Arataki Marau mō te Ako i Te Reo Māori, otirā ki te ao Arareo Māori (ngā wāhi whakaako mā te reo Māori mō te nuinga o te wā) tēnā koa tonoa mai ki ēnei tūranga.
Māori language is the essence of culture and as such is an inherited treasure acknowledged through the Treaty of Waitangi. It is through Māori language that the full range of Māori customs can be expressed, practised, and explained.
The purpose and goal of the Te Reo Māori Group is to ensure that all learners who commit to learning in and of the Māori language have access to quality provision and learning experiences. The group is responsible for setting the strategic direction to ensure the growth of te reo Māori, the Māori medium pathway and those learning the language. It is through this learning journey that Māori language learners can access the Māori world and understand their role in it. The Te Reo Māori Group covers the ages 0-18 pathway for students who have committed to the learning of, or. learning through, te reo Māori and leading on the Te Marautanga o Aotearoa and Te Aho Araki Marau mō te ako i te reo Māori.
Role that we currently have in our group
The Lead Adviser leads the development of substantial and / or. complex initiatives within the curriculum innovation and investment framework to support student achievement for all 0 - 18 year olds learning Te Reo Māori and / or. learning in kura and Māori medium settings. They ensure a deliberate focus on student achievement is maintained by providing thought leadership and guidance about proven high quality curriculum and assessment development processes
About you
We are looking for a wide range of expertise, stand outs in all of these roles will be someone with sharp thought leadership, ability to coach and mentor others, have an eye for detail displayed in great project management and the managing of many complex initiatives concurrently.
If you have good Māori networks, strong ability to grow and maintain positive relationships with te reo Māori organisations, thrive on supporting the whole education system implement initiatives around achievement and leadership, have experience in raising capability of clusters of the workforce - then apply for this role.
Te reo Māori fluency isn't needed for these roles, however will help you to succeed and excel in these roles.
Experience & Ability in:
Organising - identifying what matters, anticipating next steps, accurately delivering what was commissioned
Using project management methodologies and techniques
Working at pace to deliver quality work on time
Involving others and seeking advice at the right points
ability to understand and apply the principles of Te Tiriti o Waitangi and tangatawhenuatanga.
Are you ready to make a difference?
There is more information in the position description attached, please review and if this opportunity interests you, please apply now using the apply online button. Please advise which role or. roles that interest you.
For further information please contact Karepa Wall at karepa.wall@education.govt.nz.
Applications close Midnight - 31 July 2019.
Published: 18 July, 2019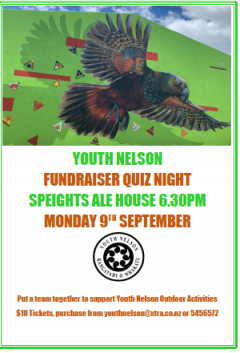 Quiz night2. 1 - (217 KB Adobe Acrobat PDF file) »
Published: 18 July, 2019
Welcome to Employment New Zealand's newsletter, giving you the latest information on employee and employer rights and obligations.

You are receiving this newsletter because your email address is listed as available to the public via the Companies Office. If you consider this newsletter not relevant, please unsubscribe at the bottom of this newsletter.
From 1 July 2019, the maximum weekly rate of parental leave payments has increased from $564.38 per week to $585.80 per week before tax. The minimum rate for self-employed persons increases to $177.00 per week, which is equal to 10 hours of adult the minimum wage.
Government-funded paid parental leave is intended to support expectant and new parents during some of the first months of their babies' lives.
Each year, the parental leave payment is adjusted to reflect the rise in the average wage.
Paid parental leave is currently 22 weeks and will increase to 26 weeks from 1 July 2020.

Amount of parental leave payment
Published: 18 July, 2019
Diploma in Business
Leadership Management
Enhance the leadership and management skills of managers and leaders to achieve their organisation's strategic objectives.

This leadership and management programme is for leaders and managers with direct reports and strategic management responsibilities.

The programme has been developed specifically for those working in the health, mental health, aged support, disability, social services, youth work, cleaning and urban pest management sectors and will recognise current knowledge and skills that are required to contribute to the achievement of an organisation's strategic objectives.

This programme leads to the New Zealand Diploma in Business (Level 6) Leadership and Management.
The programme was developed in consultation with the sectors that Careerforce supports and reflects the skills, knowledge and competencies that the sector identified in addition to the core outcomes from the qualification



A4 Promotional Flyer for L5 Health and Wellbeing Qual - (1.4 MB Adobe Acrobat PDF file) »

A4 Promotional Flyer for L5L6 Business Qual - (1.5 MB Adobe Acrobat PDF file) »

SCREEN Business Level 6 Programme Guide - (2.6 MB Adobe Acrobat PDF file) »