Latest News
Published: 20 July, 2018
Kia Ora,
Dr. Keri Lawson-Te Aho, Laura O'Connell Rapira and a group of Otago Medical students are conducting research into Māori attitudes towards the justice system using the ActionStation platform, Facebook and other social media and emails. The purpose of this survey is to amplify or raise the voices of whānau Māori in this kaupapa.
As a part of this we have launched a nationwide survey to help us understand Māori attitudes and Māori voices in this kaupapa.
The end result will be a report that Laura O'Connell Rapira founder of ActionStation will use to advocate for change.
Here's what we all know:
The issue of incarceration disproportionately affects Māori. The views and voices of all iwi and hāpu across the motu should take prominence in deciding what should be done about it.
To help us if you can spread this survey to as many people as possible we would be extremely grateful. It only takes around 10 minutes to complete.
If you know of anyone else we can contact to try and get more people involved please let us know.
https://actionstation.typeform.com/to/a8tZD5 
Ngā Mihi,
Timothy Colson, 4th year Medical Student
University of Otago
colti774@student.otago.ac.nz 
Project Supervisors:
Dr Keri Lawson-Te Aho, Lecturer and Social Justice Advocate 
(Ngāti Kahungunu ki te Wairoa; Ngāi Tāhu; Ngāi Tūhoe, Rongowhakaata; Ngāti Porou, Ngāti Manawa)
Laura O'Conell Rapira: Director of Action Station 
(Ngāpuhi, Te Ātiawa, Te Rarawa, Te Arawa)
Published: 11 June, 2018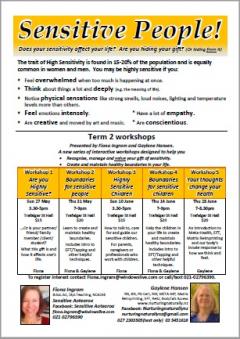 Presented by Fiona Ingram and Gaylene Hansen. A new series of interactive workshops designed to help you
Recognise, manage and value your gift of sensitivity.
Create and maintain healthy boundaries in your life.

Sensitivity workshops Term 2 - (1.6 MB Adobe Acrobat PDF file) »
Click here for more information »
Published: 11 June, 2018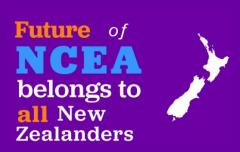 The future of NCEA belongs to all New Zealanders
The Government is looking at ways to strengthen NCEA that will benefit all our young people. But we need your help to make it happen.
Over the next few months we want to hear from thousands of people across New Zealand from a range of backgrounds. Everyone with an interest in NCEA is invited to share their experiences and ideas. In English or Te Reo Māori, online or on paper, at workshops or hui, or through social media - you choose.
Find out more here: https://conversation.education.govt.nz/conversations/ncea-have-your-say/
Published: 11 June, 2018
What is available:
This agreement provides seed funding to help Te Atiawa to have initial conversations with all stakeholders and start the processes that will lead to production of resources and children learning about Te Atiawa.
Please refer to the draft agreement below to give you a sense of what the agreement might look like.
Here is a website to provide you with more information: http://www.education.govt.nz/assets/Documents/Early-Childhood/EL-Bulletin/GI-National-Sestercentennial-250th-Commemoration-Tuia-Matauranga.pdf
Draft Procurement agreementTe Atawa2 - (71 KB Word document) »