Latest News
Published: 11 October, 2019
A fair health system prioritises equity

hp7168 equity poster v5 - (118 KB Adobe Acrobat PDF file) »
Published: 11 October, 2019
Making Education easy

Maori Health Review Issue 81 - (922 KB Adobe Acrobat PDF file) »
Published: 11 October, 2019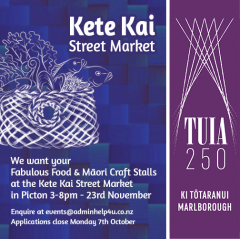 Kete Kai Application Form 2019 - (265 KB Adobe Acrobat PDF file) »
Published: 27 September, 2019
Sewage Spill Notification Form

Complete form & email to healthprotection@nmdhb.govt.nz

Notifier

Eddie Powick

TLA

Nelson City Council

Date Notified

26 Sep 2019

Time Notified

2.30pm

Date of Spill

26 Sep 2019

Time discovered

2.00pm

Phone   (

5460262

 Phone

 

027 471 8337

Location and Cause:

Atawhai Rising Main. Leak approximately 150m from Boulder Bank Drive back towards town, located in the estuary. Excavation of line currently underway with repair to follow. Estimate repair completed prior to 5pm Friday afternoon, 27 Sep 2019, due to tide cycle.

 

Pump station storage, mobile pumps and mobile sewerage tankers being used to mitigate spill volume and limit additional spill volume to the estuary.

 

Update will be provided tomorrow.

Estimated Quantity

Approx. volume to date estimated at between 648m3 to 1296m3 (based on an estimate of 5 to 10 litres per second for a period of 36 hours).

Rainfall/Weather

Sunny.

Tide Conditions

Low tide when found.  

Proposed Sampling?

At multiple points along the Haven.
Published: 13 September, 2019
Interest free home-loans
Healthy homes
We live in the best place in the world. But the places we live in aren't always built to suit New Zealand conditions.  Half of all Kiwi homes lack adequate insulation, which makes them cold, damp and expensive to heat. It's impacting our well-being, with 1 in 6 Kiwis affected by respiratory disease.
ANZ is committed to helping Kiwis live in warmer, drier homes. Because a home should be more than a place to live, but to thrive.
Here you can see the ways we are helping you into a warmer, drier and more energy efficient home. 

Insulation Interest Free Home Loans FAQS - (70 KB Adobe Acrobat PDF file) »