Latest News
Published: 27 September, 2019
Sewage Spill Notification Form

Complete form & email to healthprotection@nmdhb.govt.nz

Notifier

Eddie Powick

TLA

Nelson City Council

Date Notified

26 Sep 2019

Time Notified

2.30pm

Date of Spill

26 Sep 2019

Time discovered

2.00pm

Phone   (

5460262

 Phone

 

027 471 8337

Location and Cause:

Atawhai Rising Main. Leak approximately 150m from Boulder Bank Drive back towards town, located in the estuary. Excavation of line currently underway with repair to follow. Estimate repair completed prior to 5pm Friday afternoon, 27 Sep 2019, due to tide cycle.

 

Pump station storage, mobile pumps and mobile sewerage tankers being used to mitigate spill volume and limit additional spill volume to the estuary.

 

Update will be provided tomorrow.

Estimated Quantity

Approx. volume to date estimated at between 648m3 to 1296m3 (based on an estimate of 5 to 10 litres per second for a period of 36 hours).

Rainfall/Weather

Sunny.

Tide Conditions

Low tide when found.  

Proposed Sampling?

At multiple points along the Haven.
Published: 13 September, 2019
Interest free home-loans
Healthy homes
We live in the best place in the world. But the places we live in aren't always built to suit New Zealand conditions.  Half of all Kiwi homes lack adequate insulation, which makes them cold, damp and expensive to heat. It's impacting our well-being, with 1 in 6 Kiwis affected by respiratory disease.
ANZ is committed to helping Kiwis live in warmer, drier homes. Because a home should be more than a place to live, but to thrive.
Here you can see the ways we are helping you into a warmer, drier and more energy efficient home. 

Insulation Interest Free Home Loans FAQS - (70 KB Adobe Acrobat PDF file) »
Published: 5 September, 2019

Empowering Kaumātua Mana Motuhake 2019
19-21 November 2019 Rotorua
Published: 27 August, 2019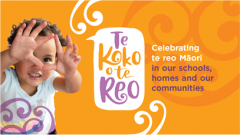 Te Koko o Te Reo – celebrating te reo Māori in our schools, homes and our communities is a free public event to connect and engage ākonga and kaiako, as well as whānau and communities with a range of quality te reo Māori resources, tools, programmes and initiatives to support them on their te reo Māori journey. There will be some 40-50 exhibitions from all over Aotearoa that showcase the range of quality te reo Māori rauemi, tools, programmes and initiatives to support their te reo Māori journey.
Further it's an opportunity to hear from those in the field of te reo Māori revitalisation who will share their experiences and impart knowledge of using te reo Māori in our schools, homes and our communities. Guest speakers include Dr Ruakere Hond, Ani Piki-Tuari, Kingi Kiriona, Pania Papa and many more.
The event will also be a launching pad for a new online platform to host te reo Māori curriculum resources – Kauwhata Reo to support those learning in and through te reo Māori. Minister Davis will be showcasing Kauwhata Reo at Te Koko o Te Reo.
I look forward to you and your teams coming down to show support for Te Koko o te Reo and encourage you to promote the event within your teams and communities.

TeKokoOTeReo Flyer 2019 - (226 KB Adobe Acrobat PDF file) »

TeKokoOTeReo Nga Kaupapa Korero 002 - (50 KB Adobe Acrobat PDF file) »
Published: 27 August, 2019

Waitangi Day Fund 83 - (164 KB Adobe Acrobat PDF file) »